---
Schwere Panzer-Abteilung 504 arrived in Italy in late February 1943. 2.Kp with 9 Tigers remained there whilst 1.Kp was shipped to Tunisia.

Like the battalion's Tigers in Tunisia, the original members of 2.Kp sported solid red tactical numbers on the turret side walls and bin. Some were positioned in the middle of the side wall like 1.Kp, whilst others were positioned higher. The digits were small at about ¼ turret height, making them difficult to identify in photographs.

A further 2 Tigers were delivered in May and finally 6 more in June 1943. It appears that these later deliveries remained unnumbered.

In common with 1./504, the striped rhomboid symbol was used. It appears most often on the forward hull sides but also on the bow and rear. The rhomboid is followed by a small number representing the company; this should be a '2' but one example of '3' has been identified.



Also sometimes seen - usually on the left hull side and Feiffel filters - is the small white star (with a black G in the middle - representing Major Gierga) of Panzer-Abteilung 215 to which the company was attached until late June 1943.





200

211
Entrainig from Paceco to Caltanissetta, late June 1943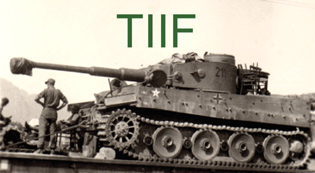 Destroyed at Caltagirone - mount of Lt. Heim



212

221

222



231



232
On the hull side is the white star with black 'G' emblem of PzAbt 215.



241

242

Unknowns/Unnumbered

Acate
This picture was taken in front of the old Municipio (Mayor House) of Acate, now demolished. It could have been taken at the moment of the first attack on July 11th, 1943, as Acate was the starting point for the operations



This second Tiger was destroyed in the outskirts of the village, and then had his turret rotated and was moved near the center of the village.



Belpasso
#223 according to veteran interview

Mount Etna (Ätna)
Paceco


Near Priolo ( 2 Tigers)
Penetration in the turret and damage to left muffler suggest that this was the mount of company commander Hans Hummel



Pisano (2 Tigers)



This 2nd vehicle is from the Tigers delivered in May/June 1943, distinguishable by the turret track stowage



Ponte Dirillo (action known in the USA as Biazza Ridge)




Location Unknown

Possibly #200



Possibly #231



Has the white star with black 'G' emblem of PzAbt 215 on the hull side




Tigers Delivered in May/June 1943 (with S-mines / turret track hangers)




Possibly 504



Sources:
I Carri Armati Tigre in Sicilia/Peyrani + Bovi
Tigers in Combat I/Schneider
Tiger I on the Western Front/Restayn
Tigers in Italy 1943-1945/Trojca
Tiger The History of a Legendary Weapon/Kleine Kuhn
All American, All the Way/Nordyke
The Long March on Rome/Whiting
Panzers in Italy 1943-45/Cockle
6 Agosto 1943: i Panzer Tiger a Belpasso/Maugeri
Concord: US tank battles in the Med
National Army Museum
Steelmasters
51 Highland Division website
Archive of Modern Conflict
British Pathe
Armchair General Forum
WW2Modelmaker.com
Axis History Forum
Fox Company Research
Historical-media.com
Capt. Ralph A. Lurvey, USA (Ret.) Collection
Joe Dell Collection
E-bay
'The Web'
Apologies to any source/publication I have been unable to recall.

Further Contributors: Mario Lippert, Greg Del Nero, Robert Dail Jr (aka Allen), John Winwood, David E. Brown, Michael Kenny, Federico Peyrani, Andrea Falciai, Michael Huffman, Mason Lurvey, David Byrden and Hartmut von Holdt